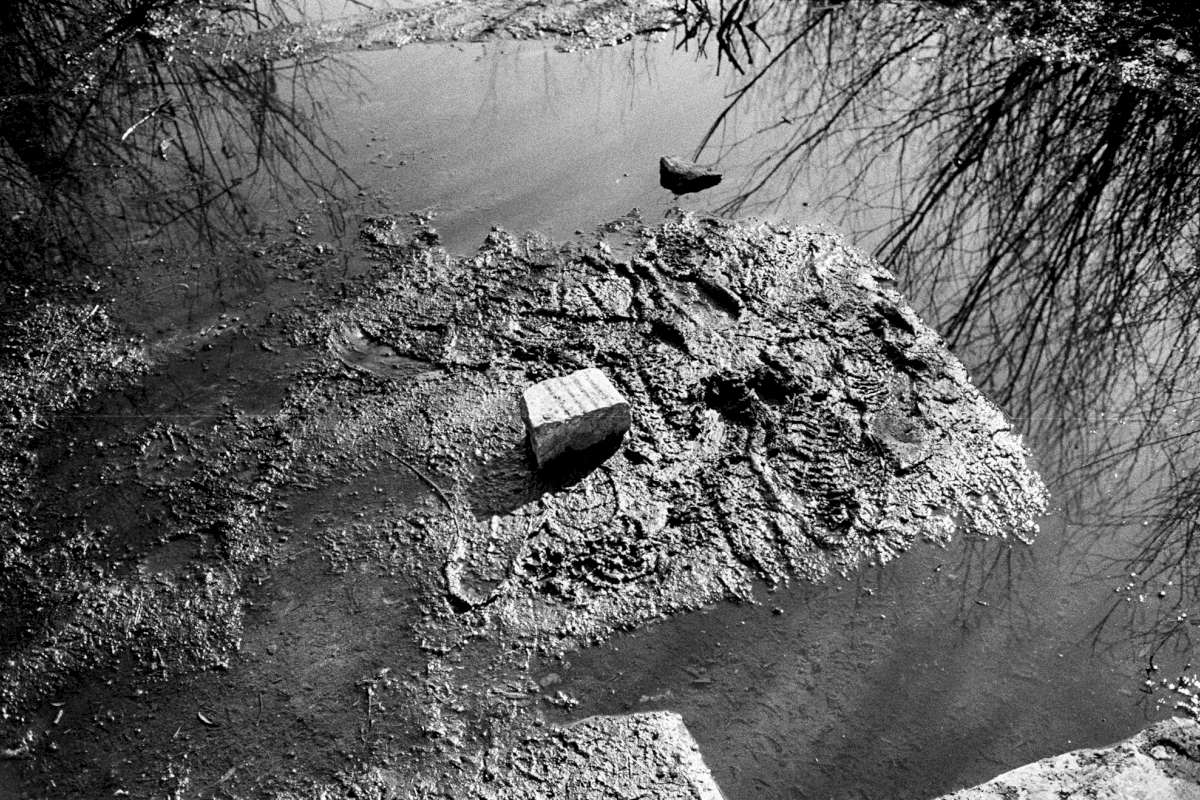 The road of the camp was built of Jewish gravestones. This road is a replica, but on the original camp grounds. It was used in the film "Schindler's List".
Plaszow
was a German concentration camp in Płaszów, a southeastern suburb of Krakow in southern Poland. In Plaszow a total of about 8000 people lost their lives. More than 1000 Jews who were murdered when the Krakow ghetto was dissolved were also buried in mass graves in Plaszow.
The camp was built as a forced labor camp in late 1942 on the site of two Jewish cemeteries by Jewish workers from the Krakow Ghetto. Gravestones from the cemeteries were used for the camp street. After the liquidation of the Krakow Ghetto, the number of prisoners rose sharply to more than 12,000 by fall 1943, when Jews from other ghettos in the Krakow district were also brought to Plaszow.
Initially, the prisoners worked in Krakow companies and factories outside the camp, where they were driven there daily on foot by the SS. From September 1943, they had to work inside the camp, especially in the limestone quarries on the camp grounds. In the first half of 1944, 6,000 to 8,000 Hungarian Jews were brought to Plaszow, and also many Polish prisoners followed after the suppression of the Warsaw Uprising. In the summer of 1944, the camp's occupancy peaked at 25,000 prisoners.
The camp was surrounded by a double, electrically charged barbed-wire fence with an overall length of 4 kilometers. The 13 watchtowers were equipped with machine guns, searchlights, and telephones. A water ditch between the two fences was to make escape additionally impossible. The prisoners suffered not only from catastrophic living conditions and murderous forced labor, but also from arbitrary murders and abuse by the SS guards. The camp commander, Amon Göth, was notorious for his cruelty, had even the smallest offense punished and murdered about 500 prisoners himself.
Before the arrival of the Red Army, about 24,000 prisoners were evacuated to other concentration camps. The camp was dismantled and prisoners had to exhume the mass graves and burn the bodies. One day before the liberation of Krakow, the last 625 remaining prisoners were driven on foot to Auschwitz on January 14, 1945.
Neither the watchtowers nor barracks of the camp exist today. However, the residence of camp commander Amon Göth (ul. Heltmana 22) and the so-called "Grey House" (ul. Jerozolimska 3), which was used as a prison and torture site, have been preserved. Today it is a residential building. The famous Hollywood movie "Schindler's List" was partly filmed on the camp grounds, also showing the "Grey House". Some of the movie props such as barbed wire fences and a replica of the camp road built from Jewish gravestones can still be found in Plaszow.