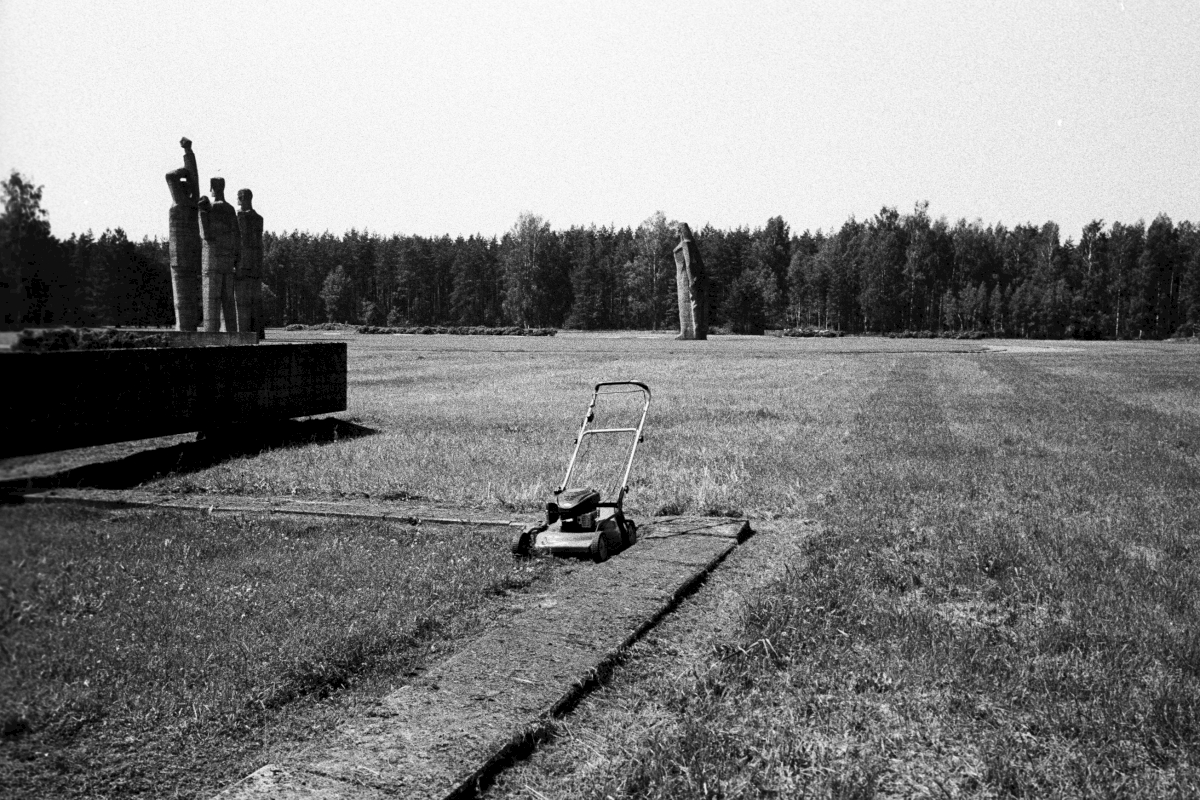 Huge monuments mark the site of the former concentration camp Salaspils in Latvia
The Baltics
The Jewish population of the Baltic States also fell victim to the Holocaust. The members of the German Einsatzgruppe A were primarily responsible, although there were also local perpetrators: Numerous volunteers and activists armed themselves and took part in pogroms and murders. Lithuanian and Latvian SS units and police battalions also took part in the mass murder.
In Lithuania there were about 220,000 Jews at the time of the German invasion in June 1941. By the summer of 1944, they were almost completely exterminated: The number of murdered Lithuanian Jews ranged between 140,000 and 150,000, in addition to about 70,000 Jews from the Vilnius region, which had been returned to Lithuania after the destruction of Poland in fall 1939. In Lithuania, the Jewish population was thus almost completely exterminated. A large part of the Jewish population in the countryside or in small towns was murdered in raid-like actions. In the cities of Vilnius, Kaunas, Siauliai, and Swienciany, the Jews were first concentrated in ghettos and only later shot. Some 170,000 non-Jewish Lithuanian civilians were also murdered, and many Lithuanians were deported to the German Reich as slaves for forced labor.
In Latvia about 70,000 Jews lived at the time of the German occupation. More than 23,000 had been deported by the Soviet regime - like tens of thousands of other Latvians - or had been able to flee into the Soviet Union. Between July and early December 1941, about 30,000 Jews were shot. At the end of October, 32,000 Riga Jews were locked up in two ghettos - the "big" and the "small" ghetto. 27,500 Jews from the "big" ghetto were murdered between November 30 and December 7, 1941, in Rumbula Forest near Riga. At the same time, the Jews of the Dvinsk (Daugavpils) and Liepaja ghettos were also shot. A few days later, transports of about 25,000 German, Austrian, and Czech Jews began arriving in the emptied "Great Ghetto" of Riga. In early 1942, the shooting of the Jews from the ghetto started again, this time in the Bikernieki Forest. By the end of the war, 95 percent of Latvia's pre-war Jewish population had been annihilated and some 120,000 non-Jewish Latvian civilians had been murdered.
In Estonia only few Jews lived in comparison to Lithuania and Latvia, with their large Jewish populations. During the German occupation of the country in the summer of 1941, about 3,000 Estonian Jews fled to the Soviet Union. The approximately 1000 remaining Jews were murdered by members of the SS and Estonian helpers - and Estonia was subsequently declared "free of Jews" (judenrein). In a later massacre in the fall of 1942, Estonian policemen shot about 1,800 Jews from the Theresienstadt ghetto, Berlin, and Frankfurt am Main in the dunes on the Baltic Sea beach of Kalevi-Liiva. During the Second World War, Estonia lost about a third of its slightly over one million inhabitants.